Peterborough's Top 10 Toys for Christmas - every vote counts!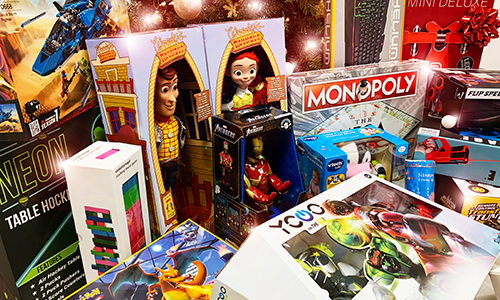 Christmas 2020 might look a little different, but some things never change! Just as Santa and his elves will still be going all out in the workshop to make this Christmas one to remember, Queensgate Shopping Centre will still be going all out to crown the Top 10 Toys of the season.
This year, instead of the centre's annual Toy Testing extravaganza, Santa and his team of Queensgate elves have come up with a new socially distant way to discover the most-wanted toys of Christmas 2020.
The people of Peterborough are being invited to VOTE for the toy they'd most like to find in their stocking on Christmas morning! All you have to do is vote for your ultimate favourite toy from a list of 18 which are predicted to be this year's hottest buys. The best bit is that one lucky voter will WIN THE LOT - in a mega prize worth a whopping &gbp;500!
The toys range from a brightly coloured interactive peacock for the littlest children, to cuddly toys, board games, and sports challenges. Expect to see:
Vtech Feathers and Feelings Peacock (John Lewis & Partners)
Wooden Walker (John Lewis & Partners)
Monopoly Mega Edition Exclusive (John Lewis & Partners)
Laser Tag Shooting Game (Menkind)
Transforming Car (Menkind)
Robo Kombat (Menkind)
Flip Speeder (Menkind)
Neon Table Air Hockey (Menkind)
Cable Guy Holders (Game)
Giant Pokémon Plushes (Game)
G-Lab Gaming Set (Game)
Pokemon TCG Battle Academy (Game)
Bowling Game (Tiger)
Puck Game (Tiger)
Fishing Fun (Tiger)
Stacking Tower Game (Tiger)
Pool Table (Tiger)
Which will get your vote?
Voting will be open from Monday 16 November for two weeks. It's completely free of charge to take part - just head to www.queensgate-shopping.co.uk/tistheseason to cast your vote. The toys with the most votes will make it into Queensgate's definitive list of the Top 10 Toys of Christmas 2020. The prize winner will be chosen at random from everyone who's voted.
Rebecca Keefe, Marketing Manager at Queensgate Shopping Centre, said: "It was so important to us to keep up with our festive tradition of naming the top toys of Christmas. Without our support, how would Santa and the elves know what the people of Peterborough are likely to be asking for? Up in the North Pole, they rely on this kind of intel from Queensgate! This year, in a change to our usual Toy Testing format, we've gone for an online vote. And we're giving one lucky voter the chance to win the lot, so someone is going to have the most wonderful Christmas! Good luck to everyone voting."
This Christmas, you can still expect the centre to be full of the usual magic, twinkling lights and festive wonder that you've come to know and love from a Queensgate Christmas. From the extravagant décor and incredible shopping, to the delicious restaurants and treat-filled coffee shops, it's the place to be for happy holidays.
Find out more about Queensgate at www.queensgate-shopping.co.uk/tistheseason